Are you an EDM enthusiast looking for your next musical obsession? Look no further than deadmau5!
If you're a fan of electronic dance music, then you've undoubtedly heard of deadmau5 whose real name is Joel Thomas Zimmerman.
Since the early 2000s, this Canadian DJ and producer has shaped dance music with his unique blend and signature sound of progressive house and techno, iconic mouse head helmet, and unmatched creativity cementing himself as a famous household name in the industry.
From chart-topping hits to epic live performances, deadmau5 has become a household name in the EDM scene.
Whether you're a seasoned veteran or just discovering the genre, deadmau5 is a must-listen for anyone looking to experience the best of EDM.
If you're an EDM enthusiast who gets excited about learning more about their favorite DJs then join me as we explore the astounding career of deadmau5.
Who is deadmau5?
Deadmau5, whose real name is Joel Thomas Zimmerman, is a famous Canadian electronic dance music producer and DJ who began his music career in the early 2000s and is regarded as one of the world's most prominent producers in the industry.
With that said, underneath the broad umbrella of EDM, deadmau5 mainly produces progressive house, house, and techno tracks.
He first gained recognition in the electronic music scene with his 2008 album "Random Album Title", which included the hit tracks "Faxing Berlin" and "Not Exactly".
Deadmau5 is most well known and recognized because of the large "mau5head" he wears while performing at live events but, beyond the music, he has made headlines with tweets and comments that showcase his outspoken personality and sometimes controversial opinions.
He's been known to engage in Twitter feuds with other musicians and has also been critical of the music industry as a whole.
Despite this, he remains a beloved figure among his fans, who appreciate his authenticity and dedication to his craft.
Whether you're a die-hard Deadmau5 fan or just discovering his music for the first time, there's no denying the impact he has had on the electronic music scene.
From his iconic mouse head helmet to his chart-topping hits, Deadmau5 is a true legend of EDM.
deadmau5's(Joel Thomas Zimmerman's) Early Life
Before he was known as deadmau5, Joel Thomas Zimmerman, born on January 5th, 1981, was just a kid growing up in Niagara Falls, Ontario.
From a young age Zimmerman was fascinated with music and in childhood, he started taking piano lessons which attracted him to the world of music and later music composition.
As he got older, Joel's passion for music only grew stronger, and he began experimenting with different genres and instruments.
In addition to Zimmerman's interest in music, he also had a keen interest in video games, computers, and tech which served as a launching point for his first music production projects where he would make music with old computer chips.
During this time, he started making music with old computer chips and also co-produced a dance music program at a Niagara Falls radio station.
Soon he became a composer for a stock music company and in 2002, he created his own website and began uploading songs.
How Did deadmau5 Get His Name?
Rather than use his real name, Zimmerman decided to go by the stage name "deadmau5."
The name originates from when deadmau5 was a teenager and found a dead mouse on his computer while trying to chat with an online friend.
It had a smell of burnt wire and a strange odor. After he dismantled his computer, he found a mouse that had crawled inside the computer and died there.
When deadmau5 shared this account with the chat room members of the chat room they began to call him the nickname "dead mouse guy."
Following the incident deadmau5 tried to change his screen name to "deadmouse", but had to shorten it to "deadmau5."
After being famous for this unique name, deadmau5 later created the iconic "mau5head" himself while learning how to use 3D modeling software.
His friend Jay Gordon gave him the idea to wear a helmet based on the
"deadmau5" logo and then in January 2008 in Halifax, Nova Scotia.
deadmau5's Career:
Deadmau5's career in music began in 2000 when he released the vinyl-pressed single "I Don't Want No Other" under Dred And Karma but rose to prominence in 2008 with his track "Faxing Berlin"
This track was included in the playlist of the legendary DJ/producer Pete Tong's radio show.
After this track gained public attention, he soon became an important figure in the world of progressive house music.
deadmau5's career as an electronic music producer and DJ comprises these phases:
1998–2006: Get Scraped and self-released compilations
Deadmau5 released his debut studio album titled 'Get Scraped' on July 26, 2005.
The tracks "Just Before 8bit", "Nice Try Kiddo ", and "Uploading and Downloading" were sourced from Project 56 and were then edited and expanded upon in the final album.
Three self-released compilations were also released that included Project 56, deadmau5 Circa, and A Little Oblique.
2006–2008: Vexillology, Mau5trap, and Random Album Title
Deadmau5 released his second studio album Vexillology in November 2006. This album proved to be the beginning of the signature deadmau5 sound. In 2007, deadmau5 founded his record label by the name "Mou5trap".
" Vexillology" – Full Album – Deadmau5
This released his third studio album under the name Random Album Title. This album featured his popular songs that include "Faxing Berlin","Not Exactly", and "I Remember" (With Kaskade).
2009–2011: For Lack of a Better Name and 4×4=12
His fourth studio album was released in September 2009, titled "For Lack of a Better Name".
"For Lack of a Better Name" Full Album – deadmau5
This album contained two of the greatest hits of all time by deadmau5. These were "Ghosts 'n' Stuff" and "Strobe". In December 2010 he released his fifth studio album under the name 4×4=12.
4×4=12 Full Album – deadmau5
This album contains tracks with progressive house, electro house, and techno mashup "Raise Your Weapon".
2012–2014: Album Title Goes Here and While(1<2)
Two non-album singles "Aural Psynapse" and "HR 8938 Cephei" were released in 2011.
His sixth studio album, "Album Title Goes Here" was released on September 21, 2012, and contained tracks of house music along with songs in ambient, glitch, and trip-trop genres.
"Album Title Goes Here" – Full Album – deadmau5
In November 2013, Zimmerman deleted three years' worth of music from his Soundcloud account and later replaced them with an EP of seven melancholy piano sonatas named after 'the seven deadly sins'.
In the same month as this release, deadmau5 left Ultra Records and signed with the record label Astralwerks.
In January 2014, deadmau5 released his next project containing the weekly release of four singles.
These include "Avaritia", "Seeya", "Infra Turbo Igcard Racer", and "Phantoms Can't Hang".
His seventh studio album was released on June 17. After leaving Astralwerks, he released a digital single "Snowcone" in May 2016.
2017–present: Stuff I Used to Do, Where's the Drop?, Polar soundtrack, Mau5ville, and upcoming ninth studio album
In January 2017, he released a compilation album named "Stuff I Used to Do" and the single "Legendary" on August 25.
Another popular song "Where's the Drop?" was released on March 30, 2018.
After this deadmau5 released the Mau5ville series, l and three EPs containing original work as well as remixes from July 13, 2018, to February 01, 2019.
On January 25, 2019, deadmau5 released the soundtrack album of the Netflix series "Polar".
Then in the same year in November, he released three new singles entitled: Saturn (16th Nov), Coasted (22nd Nov), and Fall (29th Nov).
In the following year, he continued to release singles and these were "Pomegranate" and "Bridge By a Lightwave ".
In March 2021, deadmau5 debuted a new, house-focused record label by the name "Hau5trap " and also released "Nextra ".
deadmau5's Awards and Nominations:
This amazing DJ has won a total of 15 awards and 42 nominations. The details of awards and nominations are listed below:
| | | | |
| --- | --- | --- | --- |
| Sr. No: | Awards | No. on awards won | No. of Nominations |
| 01 | Beatport Music Award | 05 | 01 |
| 02 | Best DJ Awards | 03 | 04 |
| 03 | Grammy Awards | – | 06 |
| 04 | International Dance Music Awards | 03 | 04 |
| 05 | Juno Awards | 03 | 06 |
| 06 | Shorty Awards | – | 01 |
| 07 | World Music Awards | – | 01 |
| 08 | DJ Magazine Awards | | 15 |
deadmau5 Grammy Nominated Tracks
Grammy award nominations for deadmau5:
Year
Nominee/work
Award
Result
2009
"The Longest Road" (deadmau5 Remix)
Best Remixed Recording, Non-classical
Nominated
2012
"Rope" (deadmau5 Remix)
Nominated
"Raise Your Weapon"
Best Dance Recording
Nominated
4×4=12
Best Dance/Electronic Album
Nominated
2013
>Album Title goes Here<
Nominated
2015
While(1<2)
Nominated
List of awards and nominations received by Deadmau5
Music Production and Style:
deadmau5 mainly produces progressive house music.
He also produces and DJs other genres of electronic music including electro-house and techno genres.
During his long-lasting musical career, deadmau5 has used different types of DAWs but his favorite one is Ableton.
According to deadmau5, Ableton is a cartoony version of a DAW that has everything in the right order required for music production.
For producing such a tremendous form of music, deadmau5 uses some DAWs and a lot of software for music.
deadmau5 Controversies, Twitter Beefs, and Legal Disputes
Deadmau5 has been no stranger to controversy throughout his career which has often come from Twitter feuds with fellow EDM producers and DJs.
One of the most well-known incidents occurred in 2014 when Diplo and deadmau5 engaged in a heated exchange.
The two producers exchanged explicit inflammatory insults on Twitter and while the feud eventually died down it caused quite a stir in the EDM community and EDM tabloid space.
Copyright issues with DirtyCircuit
In 2008, an artist by the name of DirtyCircuit claimed to have been threatened by deadmau5 with legal action for using a sample called "LP_Faxing Berlin C_128bpm ' bundled with FL Studio.
deadmau5 claimed it to be copyrighted and provided a "Demo Track" along with several loop samples.
In the end, deadmau5 won this controversy.
Disney Trademark Dispute
In a 2012 interview with Rolling Stone, Deadmau5 acknowledged possible similarities between his Mau5head logo and that of Mickey Mouse where he joked, "someone at the Disney patent office fell asleep on that one."
In March 2014, Walt Disney Company filed a request with the United States Patent and Trademark Office to investigate deadmau5's application to register the Mau5head emblem as a trademark due to its resemblance to Mickey Mouse.
Disney officially filed a complaint in Sep 2014 stating that Mau5head was confusing because of its "identical appearance, connotation, and overall commercial impression" to Disney's trademark icon, Mickey Mouse.
Deadmau5 simply denied this argument of Disney and also believed that Disney just attempted to "cash in" on the EDM market through this claim.
Meowingtons Trademark Dispute:
Deadmau5 attempted to register a trademark for the name of his pet cat, Professor Meowingtons he adopted in 2010 but this was rejected due to a pre-existing Meowingtons' trademark.
In March 2018, deadmau5 and Bassiri resolved their dispute.
Deadmau5's Personal life:
Family: deadmau5's family lives in Canada. His mother, Nancy is a visual artist while his father, Rodney Thomas is a General Motors plant worker. He has two siblings, the older one is Jennifer and the younger one is Chris.
He graduated from Westlane Secondary School in Niagara Falls and then worked with an online music licensing company as well as a programmer.
Relationships: Zimmerman has been in several relationships throughout his career including having girlfriends, engagements, and marriage but recently divorced in 2021.
He was engaged to tattoo artist Kat Von D in 2012, but the couple broke up the following year. He later married his longtime girlfriend, Kelly Fedoni, in 2017, and the couple has a daughter together.
Health: Deadmau5 has spoken openly about his struggles with depression and anxiety and in 2014 took a break from touring in order to focus on his mental health.
Hobbies: In addition to music, Deadmau5 has several hobbies, including racing cars and playing video games. He is a big fan of the "Deadmau5 Meowingtons" video game, which features his music.
deadmau5's TV Show Cameos and Appearances
Being an enthusiastic player of different video games, deadmau5 also appeared in some video games through his tracks. These games include DJ Hero 2, Goat Simulator, Rocket League, and Fuser.
| | | |
| --- | --- | --- |
| Fictional TV series/ Movie | Episode | Performance |
| Gossip Girl | The Empire Strikes Jack | "Not Exactly", "Hi Friend" and "FML" |
| CSI (Crime Scene Investigation) | Pool Shark | "Some Chords" |
| Runner Runner | | Fn Pig |
FAQs about deadmau5
What is deadmau5's real name?
deadmau5 is a Canadian music producer and DJ whose real name is Joel Thomas Zimmerman. deadmau5 is his professional name which is stylized as "deadmau5" and pronounced as "dead-mouse".
How did deadmau5 get his name?
Zimmerman uses his professional name deadmau5 after a funny incident happened to him. In 2002, he became popular as the "dead mouse guy". This happened after he told his fans in an Internet chat room that he had found a dead mouse in his computer. After a short time, he began using his shortened name deadmau5 as his chat room username and in the music industry. 
What is Deadman's most popular song?
Top 10 Tracks
Strobe 
Ghosts N Stuff
I Remember
Raise Your Weapon
Aural Psynapse
Some Chords
The Veldt
Professional Griefers
Faxing Berlin
There Might Be Coffee
Has deadmau5 won any Grammy awards?
No, deadmau5 has not won any Grammy awards. He has been nominated for 6 Grammy awards, but hasn't sealed the deal and won an award.
What is deadmau5's net worth?
This Canadian electronic music producer and DJ have a net worth of $53 Million (as of March 2023).
How does deadmau5 create his music?
Music producers use a proper Digital Audio Workstation (DAW) to produce great music. deadmau5 uses some DAWs and a lot of software for his music. deadmau5 is widely known for its unique sound. He uses a Virtual Studio Technology (VST) synthesizer plugin. This plugin is known as Xfer Serum. It is one of the best tools deadmau5 uses for his music. 
What is deadmau5's relationship status?
deadmau5 is currently single and not dating anyone. He married his fiancee Kelly "Grill" Fedoni. They married in August 2017 and separated in September 2021. deadmau5 has also dated two girls before Kelly Fedoni.
He was engaged to Katherine von D (2012-2013) and has also been in a relationship with Elle Evans (2010-2011).
What is the story behind deadmau5's cube stage?
deadmau5 used a V3-shaped 3D stage for his live performances.
According to deadmau5, he never wanted to be like other DJs who use simple LED walls in their back and simple tables with cloth on them and CD players.
He wanted something unique due to his passion for music.
He arranged a V3-shaped cube stage for his live events which made his music and performances more versatile. 
 
Does deadmau5 still perform live shows? 
Yes, deadmau5 still performs live shows. He is currently touring across 1 country and has 9 upcoming concerts on schedule.
Final Remarks:
In conclusion, deadmua5's fans love his music, he has a clever name, his iconic Mau5head is unforgettable, and while his controversies have impacted his following at times, deadmau5 remains one of the most influential producers in the industry.
Over the years, Deadmau5 has released numerous albums and singles, won several awards, and collaborated with some of the biggest names in music.
Despite facing various personal and legal challenges, he remains a prominent figure in the electronic music scene and continues to push boundaries with his music and performances.
We hope you can see deadmau5 live soon and in the mean time we recommend checking out his live sets or Spotify discography.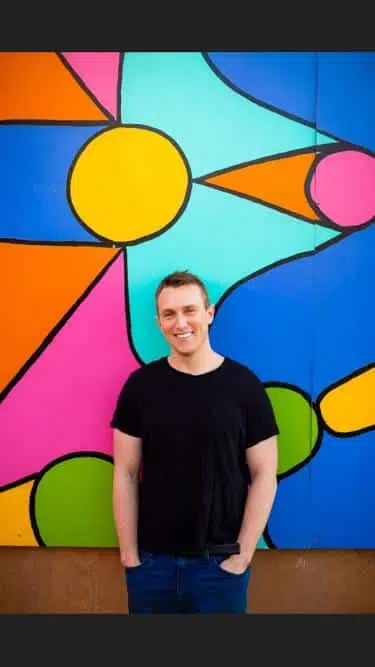 Starting with my first EDM event in 2010 at Nocturnal Wonderland and hearing One by Swedish House Mafia and Benny Bennassi's "Satisfaction" I have been hooked on EDM. While Above&Beyond and Anjunabeats captured my heart in 2012, the genre I love the most is Hardstyle and I feel the most alive when listening to it. My favorite part about the EDM world is the energy that is packed into each genre fan base and event. Writing for Deep In The Mix gives me the opportunity to contribute back to the EDM world I love so much.