With festival season right around the corner, it is time to give your party accessories a touch of stylish and cool craft.
The Rave Fan is yet another physical element to your rave aesthetic all-festival fantasy.
Yes, rave fans may not be as popular but they are grabbing attention from festival to festival and it is never too early to grab an adorable holographic folding fan for your coming festivals.
An intriguing pattern has developed at raves, concerts, and other large-scale public gatherings in recent years.
Attendees bring unique fans to the party, many of them are modeled after the Asian folding fans that have been fashionable for centuries.
They are especially useful when spending the day in the hot sun at an outdoor performance or festival.
But after a time, even indoor events may seem like saunas. Having enough room to open one of these fans and wave it in front of you can help a little.
To keep yourself cool on a terribly hot day without going out of sync with the rest of your appearance.
We thought it is the right time to bring some breeze in.
Listed below are the TOP 10 Rave fans that you can find on the online market today.
In a hurry? Here's the Overview Table:
TOP 10 Rave Fans for EDM Raves, Concerts and Festivals
SoJourner tops the list without a hint of doubt. It is because of the brand's overall reputation associated with rave apparel and accessories.
Among the several rave fans available at SoJourner, we recommend the holographic model. You can trust that this bamboo fan is of the highest quality and will serve you well for many years to come.
This lively, colorful pattern is just one option for this bamboo rave fan. Despite being handmade, they will last through many usages thanks to the bamboo ribs.
They open with a flick of the wrist and emit a pleasing clicking sound, perfect for adding drama to any situation.
This holographic fan is available in 16 different prints so any mismatch is out of the equation. With its versatile neon pattern, this fan will help you seem fresh no matter what you wear.
My Pros With This Rave Fan:
Brand Reputation
Sturdy build quality
Very durable
Great value for money
My Cons With This Rave Fan:
The size of the fan may be larger than you expect
With up to 5 plus designs, coming your way is an epic folding fan. The fabric of this Rave hand fan is of high quality, and it is attached to bamboo wood ribs and a metal screw.
Everything about it, from the materials to the beautiful craftsmanship, is completely handmade. This fan's fabric is extremely colorful and soft to the touch. It has 13 ribs made of bamboo wood and can be opened to a complete 180 degrees.
The wooden spokes are securely stitched into the fabric, making the whole thing robust and difficult to damage. Additionally, a screw secures the bamboo ribs, making the case convenient to open and close.
The Gionforsy fan is ideal for a ton of occasions and surely is a hard one to pass on.
My Pros With This Rave Fan:
Vibrant colors
Excellent build quality
Easy to use
My Cons With This Rave Fan:
No known fault at this point
Give your appearance a spooky touch with this alienated design. GloFX offers you 7 unique prints to choose from. These prints range from spooky designs to abstract art filled with appealing colors but that's not it.
A Bamboo fan that weighs more than you expect is a major upset but worry not because this GloFX fan is known for its lightweight and durability.
In addition, the fan's structure is made of strong bamboo wood which is unlikely to get damaged easily. A special feature that sets this fan apart is its Water-Resistant quality. So Let's not sweat in the sun anymore.
My Pros With This Rave Fan:
Beautiful designs
Lightweight
Water-resistant
Dramatic look
My Cons With This Rave Fan:
The printing ink quality allows a minor see through.
Also checkout it's prices on Walmart.
Bringing out the elegance in you, this rave fan will leave you in awe. You can not only cool yourself anytime and anywhere with this life-saving fan but also dazzle around a little bit of you everywhere.
Starting off with the fabric, this fan features a supreme quality nylon fabric.
In addition, its bamboo skeleton prevents it from damage, making it much sturdier and more durable than your everyday folding fans.
With a variety of sizes available in this fan, you have the freedom to choose the size that goes along with your appearance.
My Pros With This Rave Fan:
Durable
10 plus Designs
Variety of sizes
Ideal for a gift
My Cons With This Rave Fan:
Does not feature the extra glittery glow
Also checkout it's prices on Walmart.
If you have had the experience of holding fans before then OMyTea must sound familiar. The Asian brand is known to bring forward elegant bamboo craft to the rest of the world.
It is no surprise that the brand offers equally elegant and stylish Folding fans for a rave. This style is based on OMyTea's past collections of antique and vintage luxury hand fans.
The ribs are made of sustainable bamboo wood, so they will last for years. Japanese cultural performances often feature this full-sized handheld clack rave fan and now it is your chance to shine.
My Pros With This Rave Fan:
Brand Reputation
Ideal dimensions
Excellent designs
Lightweight and durable
My Cons With This Rave Fan:
The color saturation may differ from what you see in the picture.
This Fansay fan is a lightweight, multipurpose tool that can be used for everything from providing shade to enhancing a performance to enhancing the aesthetics of a space.
You need to upgrade your festival appearance now. You can take your Fansay to any music festival to quell the blaze caused by dancing and letting loose with your festival fam, whether it's Electric Daisy Carnival, Ultra Music Festival, Stage Coach, or Coachella.
Design-wise this fan is based on carefully selected wooden ribs and its masterful design complement any fashionable attire for day or nighttime celebrations.
My Pros With This Rave Fan:
Available in up to 16 Tropical designs
Multipurpose
Ideal dimensions
Sturdy build quality
My Cons With This Rave Fan:
The adhesive quality has room for improvement
Use this extraterrestrial pattern to add a touch of spookiness to your look. There are seven distinct print options available from OHOME.
There is a wide variety of styles represented in these prints, from eerie illustrations to abstract science fiction.
If you've ever been let down by a heavier-than-anticipated Bamboo fan, rest assured knowing that this OHOME model is exceptionally portable and long-lasting. Furthermore, the frame of the fan is made of sturdy bamboo wood, so it's not likely to get damaged.
This fan is distinguished from others by its Water-Resistant characteristics. Not only this but a money-back guarantee as well.
My Pros With This Rave Fan:
Multi-purpose
Durable
Money back guarantee
Ideal dimensions
My Cons With This Rave Fan:
Not very sturdy build, will need to be taken care of.
This is your chance to get your hands on something considerably more glittery. We have seen how bamboo fans have merged with rave culture, losing their traditional proportions and appearance along the way.
The UDQB fan, however, is both aesthetically pleasing and functional, and it provides more space for the incorporation of Retro culture.
Handmade to perfection, this vintage-style fan is just as long-lasting as the others on the list. This isn't just a fan for while you're at a concert, though; it looks great on the wall, too.
My Pros With This Rave Fan:
Excellent sturdiness
Gliterry Outlook
Multipurpose
My Cons With This Rave Fan:
As we wrap out this list, we have one last surprise for you. Compact and lightweight UV-reflective cooling fan.
We can all agree that its uniqueness adds to the anticipation of seeing the fan light up at night. The fabric of the fan has a psychedelic motif, which further adds to its allure.
The time has come for you to make some improvements to your festival outfit.
Bring this fan to any music festival to put out the fires started by dancing and having fun with your festival friends.
This stylish fan's creative design is built on carefully picked wooden ribs, making it the perfect accessory for any chic outfit.
My Pros With This Rave Fan:
UV Reflective
Ideal for nighttime parties
Abstract design
Durable
My Cons With This Rave Fan:
As we wrap up this list, we have one last fan for you. Compact and lightweight this minimalist-designed fan is simple yet effective.
What this fan lacks in flashiness it makes up for in utility, durability, and effectiveness.
The time has come for you to make some improvements to your festival outfit and this plain black fan is a great fan for dancing and keeping yourself cool.
My Pros With This Rave Fan:
Simple and minimalist design
Lightweight
Large fan 13 inches tall and opens to 25 inches across
Fabric is lightweight yet sturdy
My Cons With This Rave Fan:
None other than it is plain
Final Remarks
Festival season is almost here, so now is the time to add a handmade, hippie-chic spin to your party essentials.
When the temperature outside is unbearable but you still want to look your best. At this time, we figured, a breeze would be welcome.
I am a participant in the Amazon Services LLC Associates Program, an affiliate advertising program designed to provide a means for us to earn fees by linking to Amazon.com and affiliated sites.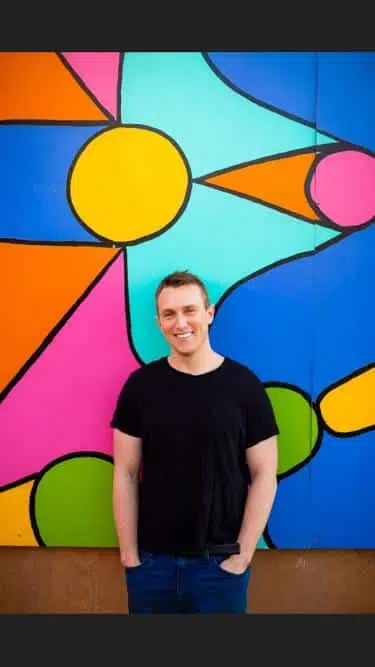 Starting with my first EDM event in 2010 at Nocturnal Wonderland and hearing One by Swedish House Mafia and Benny Bennassi's "Satisfaction" I have been hooked on EDM. While Above&Beyond and Anjunabeats captured my heart in 2012, the genre I love the most is Hardstyle and I feel the most alive when listening to it. My favorite part about the EDM world is the energy that is packed into each genre fan base and event. Writing for Deep In The Mix gives me the opportunity to contribute back to the EDM world I love so much.