What is Okeechobee Music Festival
If you're a music festival die-hard that loves attending festivals and concerts, then you're probably always on the lookout for top EDM festivals and concerts.
Whether you're scrolling on social media or watching EDM sets on YouTube, there is never a shortage of content that often sparks excitement for the next music festival trip.
If this sounds like you then we have a great festival for you.
Okeechobee Music and Arts Festival!
This year's festival dates have already been announced for March 2-5, 2023, and it's bound to be an amazing time.
With a lineup that includes some of the biggest names in EDM, as well as a ton of other electronic adjacent artists, Okeechobee is sure to please ravers and EDM enthusiasts alike.
Okeechobee Music & Arts Festival Lineup 2023
Okeechobee Music Festival is back bigger than ever with 120+ artists on the lineup that spans an array of genres ranging from electronic, hip-hop, rap, R&B, dance, rock, dubstep, disco, funk, indie, house, techno, and more.
Headling artists include Odesza, Baby Keem, GRiz, Excision, "Earth, Wind, & Fire", Goose, Big Boi, Channel Tres, Free Nationals, Dirty Heads, Local Natives, Hippo Campus, Princess Nokia, and more.
The 2023 lineup for the sixth edition of Okeechobee certainly doesn't disappoint and leads off strong with their announcement of Odesza's great return to Okeechobee since the inaugural show in 2016 featuring their new album "The Last Goodbye".
In addition, grammy-winning young rapper, Baby Keem, will make his first headline festival appearance after completing a successful world tour with his cousin, Kendrick Lamar.
Making his fourth Okeechobee Music Festival appearance, GRiZ, returns to the stage for a groovy and dazzling performance at Sunshine Grove.
For all the bass heads out there, you will be ecstatic to learn that the bass music king, Excision, will make his first OMF appearance and deliver his famous bass rattling sounds.
Rock & roll hall of Famers, Earth, Wind & Fire will be bringing legendary
soul, funk, R&B, and a disco performance fresh for OMF.
If jam bands are your vice or you are an EDM head open to expanding your horizons OMF has you covered with one of the hottest jam bands today, Goose.
And last but certainly not least, representing hardcore punk, Turnstile will be throwing down with their OMF debut.
As you can see the Okeechobee lineup is stacked.
Okeechobee 2023 By Day Lineup
In addition to the 120+ artists announced earlier this year, Okeechobee is thrilled to announce even more amazing artists have been added to the 2023 lineup.
Okeechobee 2023 Artist Additions
Lil Yachty, New Thousand, Jordana, Sierra Lane, Coffintexts, Sister System, Jonny from Space, True Vine b2b DJ, Flashdrive, Whom? and Pool Kids.
Enjoy four unforgettable days of music, art, camping, yoga, food, wellness & workshops at Sunshine Grove in Okeechobee, FL from Thursday, March 2nd through Sunday, March 5th.
Don't delay getting your tickets!
The 2023 Okeechobee Music & Arts Festival will take place from March 2-5, 2023. Tickets are on sale now at https://www.okeechobeefest.com/
Okeechobee Music & Arts Festival 2023 Official Trailer
What is the Weather Like In Okeechobee, Florida in March?
While Florida has relatively warm weather year-round you can likely expect comfortable/warm daytime temperatures and evening temperatures that might feel a little cold.
March Weather in Okeechobee Florida, United States
Daily high temperatures increase by 4°F, from 78°F to 82°F, rarely falling below 70°F or exceeding 88°F.
Daily low temperatures increase by 4°F, from 55°F to 58°F, rarely falling below 43°F or exceeding 66°F.
For reference, on July 18, the hottest day of the year, temperatures in Okeechobee typically range from 72°F to 90°F, while on January 17, the coldest day of the year, they range from 51°F to 74°F. [Source]
In addition, the month of March in Okeechobee consists of cloud cover most of the day, sunny skies in the afternoon, as well as days with rain spread throughout the month.
Where is Okeechobee Music Festival
Okeechobee Music Festival takes place in Sunshine Grove, Okeechobee Florida which is in Southeastern Florida.
Unless you're from Florida or you happen to be a geography savant you might not know where that is and don't worry we didn't either so we have included a map of Florida.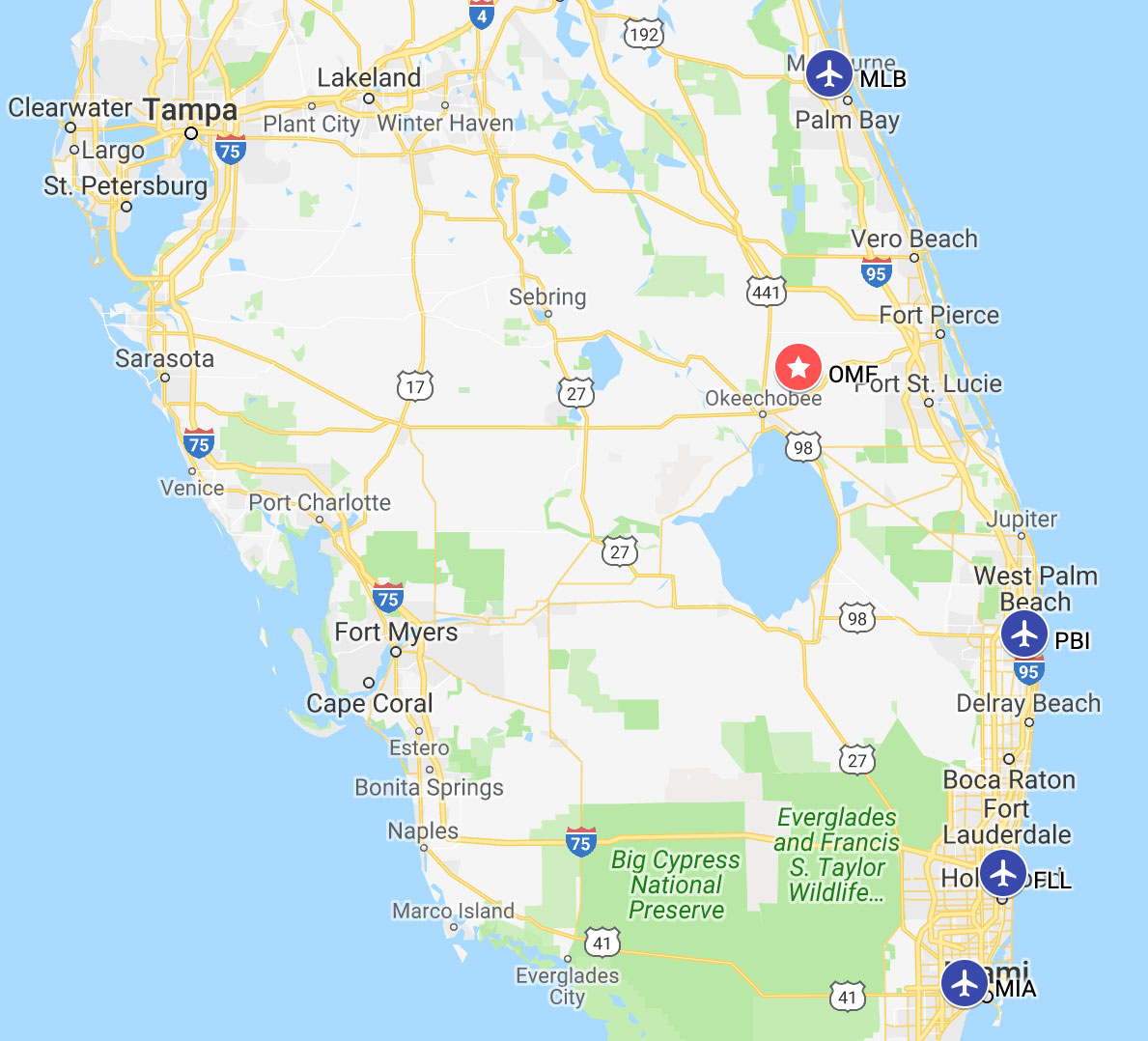 How You Can Get to Okeechobee?
Closest Airports For Flights
Palm Beach International Airport (PBI): 50 miles
Orlando Melbourne International Airport (MLB): 85 miles
Orlando International Airport (MCO): 100 miles
Fort Lauderdale-Hollywood International Airport (FLL): 120 miles
Miami International Airport (MIA): 140 miles
Age Restrictions and Requirements
Similar to many North American festivals, this festival is 18+ to enter and 21+ to drink with a valid government ID or equivalent ID.
ACCEPTABLE FORMS OF ID
Any US government-issued driver's license or ID card containing a photograph and date of birth
US or foreign government-issued passport containing a photograph and date of birth
Foreign government-issued driver's license/ID with color photocopy of passport (Not valid for 21+ wristbands. To purchase alcohol, a physical passport or US ID will be required.)
Temporary DMV documents proving you are currently renewing a license—ONLY if accompanied by a passport or expired license
Okeechobee Music & Arts Festival Experience
The Okeechobee Music festival experience is a one-of-a-kind festival experience with EDM-inspired stages, a fantastic campground experience, art installations, a vendor village, and an energetic and welcoming atmosphere for EDM festival lovers.
Okeechobee Music Festival invites people from all over the world to escape the restrictions, concerns, and stressors of everyday life with a mission statement of "Be, Here, Now"
This is a place like no other and it's an event where people come together to celebrate music, nature, and community.
The goal of the overall experience is to create an experience that is authentically EDMinspired while also cultivating kindness, respect, and community.
We encourage you to check out their experience portal and see what waits for you at Okeechobee.
Creating Your Okeechobee Music Festival 2023 Experience
Mark your calendars, tickets go on sale starting this Thursday, September 22 at 9 a.m. ET –> Tickets Can Be Accessed Here
In addition, make sure you get on their email list or follow them on social media for the most up-to-date Okeechobee Music Festival information, festival announcements, and ticket sale updates.Packages
Hotels, Lodging, and Camping. Where to Stay?
When deciding "Where to Stay" for Okeechobee Music Festival we unequivocally recommend that you should camp for this music festival and here's why.
For starters, Okeechobee is a small rural town in Southeastern Florida with limited hotels available.
In addition, by camping, you get to fully immerse yourself in the festival atmosphere.
You get to enjoy the people, the stages, and beautiful art installations, and fully embrace the "Be, Here, Now." festival vibe.
Whether you choose to camp in a tent or RV, you will have the luxury of not commuting back and forth to your hotel and will be able to enjoy all the fun and transformative experiences camping has to offer.
Most importantly the campground at Okeechobee Music & Arts Festival can be your home for four days and nights in a welcoming community filled with a bustling hub of entertainment.
The Campground at Okeechobee delivers a bustling hub of activities, entertainment, after parties, arts & crafts, meditation/healing sessions, and Yoga.
Recommended Watch: Okeechobee Festival Guide 2022 + Lineup Recommendations
Whether it's a tweet or words on a blog like this, words on a page can tell you A STORY however, we know video reviews tell an even better story which is why we recommend you watch Emma Kapotes's review video seen above.
Watch Emma Kapotes's video review and let her be your guide for more information on the festival, stages, camping, tickets, and more.
We hope you enjoy it, share it with a friend, start gathering your squad, and follow her content on Instagram(@EmmaKapotes) and Youtube(@Emma Kapotes).
Final Remarks
If you're looking for an unforgettable and life-changing music festival experience, look no further than Okeechobee Music Festival.
This transformative event will allow you to "Be, Here, Now" and connect with your friends and fellow music enthusiasts in a beautiful setting.
Start planning your perfect weekend now and join us at Okeechobee Music Festival.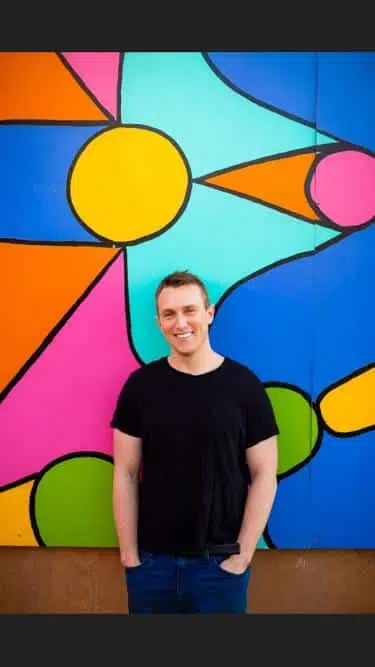 Starting with my first EDM event in 2010 at Nocturnal Wonderland and hearing One by Swedish House Mafia and Benny Bennassi's "Satisfaction" I have been hooked on EDM. While Above&Beyond and Anjunabeats captured my heart in 2012, the genre I love the most is Hardstyle and I feel the most alive when listening to it. My favorite part about the EDM world is the energy that is packed into each genre fan base and event. Writing for Deep In The Mix gives me the opportunity to contribute back to the EDM world I love so much.