This is a guide covering the best bucket hats for music festivals.
From being a fisherman's hat in the 1900s to making it a signature for hip hop stars in the 80s and 90s Bucket hats have been popular throughout.
Fast forward to now, you will find a bucket hat head on almost every runway.
As summer festivals are on the go, a lot of people want to enjoy the music while their heads remain protected from the scorching heat.
Regular hats can be too sporty and with the coverage of lesser head area they just don't do the trick
You may be worried about a bucket hat ruining your entire appearance but it is in fact the opposite.
Bucket hats have evolved in design, structure, and quality.
This list contains the 10 best bucket hats that you can purchase online.
In a hurry? Here's the Overview Table:
What is the Best Bucket Hat for Music Festivals & Concerts?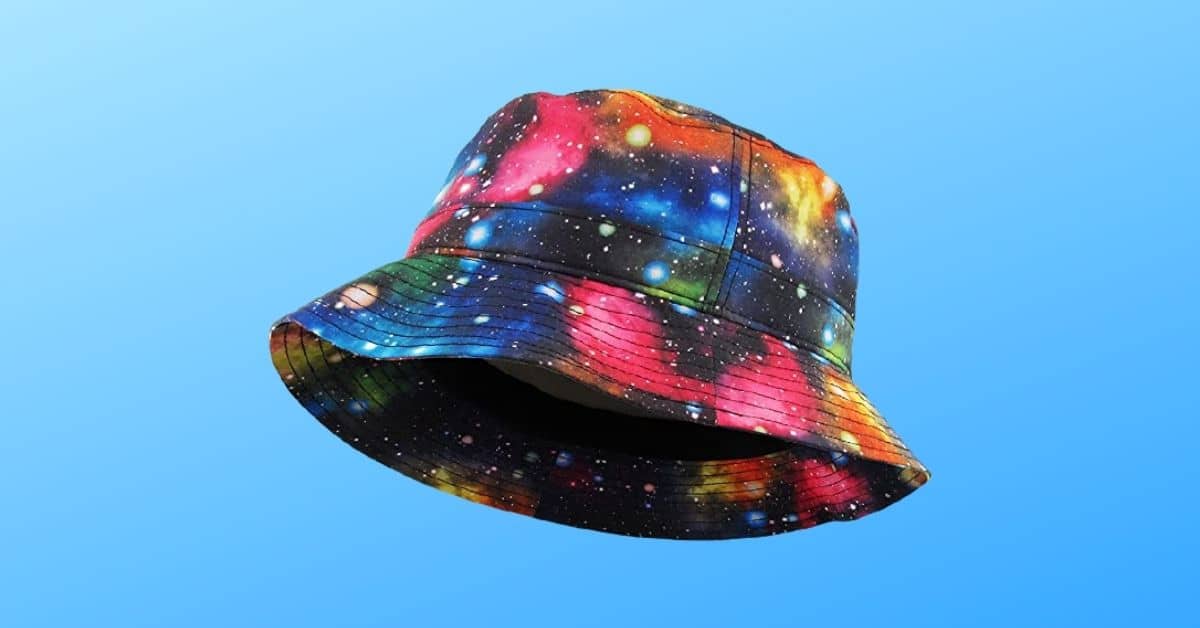 Hat Features:
Filled with gleaming colors and psychedelic prints the hat from the KBETHOS store is second to none.
The purely polyester-made hat is available in 6 distinctive designs.
The hat is very lightweight and it guarantees great protection from the sun.
In addition to that, the colors in the hat carry a natural glow while being highly vibrant.
The galactic styles of this hat will perfectly blend in with your attire and the atmosphere at your next music festival.
Furthermore, this hat comes from a brand that has been producing quality headwear for the last 20 years.
My Pros With this Hat:
6 Creative designs
Great color opacity
Lightweight
One size fits all
Breathable
Trusted brand
My Cons With this Hat:
The hat is not made of elastic fabric which may cause fitting issues depending on your head size.
Hat Features:
At number 2 we have 2 hats in 1.
A reversible hat meaning you can have a chance to switch between two different designs.
A plain side in case you are on the runway and you don't want a lot of attention and the other side filled with more colors and design for your festival time.
The hat arguably fits all ages and suits all genders.
In addition to that, the brim of the hat is perfectly sized to block out most of the heat from the sun while still giving you an ample amount of view.
My Pros With this Hat:
2 in 1 Bucket hat
Can be worn on multiple occasions
Up to 13 designs to choose from
Perfect brim size
My Cons With this Hat:
Room for subtle improvement in quality
Hat Features:
Denim
Fitted closure
97% cotton, 3% spandex
Take a look at this old-school fashioned vintage bucket hat, simply amplifying the vibe and energy these hats give off.
With all these hats for music festivals, why should this be yours?
If your focus is on design then the 28 premium designs this hat offers, will do.
This hat is available in different styles that include solid, reversible, camo, and floral.
In addition to that, the hat is producing using great quality fabric.
My Pros With this Hat:
Vintage hat
28 beautiful designs
4 styles
2 Sizes (small and large)
Can make a great collection
My Cons With this Hat:
Sizing issues from seller
Room for improvement in quality
Advertised for females
Hat Features:
100% Cotton
Buckle closure
100% Cotton
In the softer and cuter section of the list, we have this fun bucket hat in for you.
Apart from the little round ears coming out from the sides, the color tones are what make this hat endearing and distinctive.
The hat has four color options to choose from. Alongside being lightweight this hat is reversible as well.
The fabric quality and stitching are the other fine jobs done by the makers.
My Pros With this Hat:
Great design
4 plus colors available
Beautiful color tones
Lightweight
Quality stitching
Reversible
One size fits all
My Cons With this Hat:
Sizing issue as often seen in "one size" fits
Temporary Odor issue in hats
Hat Features:
If you embrace and prefer the minimal appearance then here is something more your style.
This hat is less about colors and tones, and more about the urban outlook it carries.
The denim design makes the hat appealing along with a stylish brim.
This hat comes in 5 different designs and colors and each one is equally eloquent in terms of fashion.
My Pros With this Hat:
Sweatband inside the hat
Comfortable lightweight and breathable fabric
5 different designs and colors
Fancy brim
Unisex Hat in regard to design
My Cons With this Hat:
Room for subtle improvement in quality
Hat Features:
100% Other Fibers
Imported
Drawstring closure
Have a look at this Country style beauty with the widest brim you'll possibly ever see.
This hat is made of soft wooden fiber stripes which are layered over one another giving satisfaction.
The hat has a drawstring for you to tighten its grip across your neck just in case it gets too windy at your next festival.
The one-size that has a little room for adjustment as well along with a wide brim to keep you from sun damage.
My Pros With this Hat:
Country Style
Wider brim
Drawstring for adjustment
One size fits all
Can be used on multiple occasions
My Cons With this Hat:
There is no fabric involved thus the hat can be easily damaged (torn apart)
The hat can get bent and lose its shape if not handled with care
Hat Features:
With this hat on top and a little makeup on the face, this hat has the potential to deliver a perfect party look.
Of course, you can be creative with this one and twist the makeup around to direct it to get a cool and spooky appearance.
This hat has the most unique shape compared to other hats on our list – this is the captain's hat.
In addition to that, a decent amount of hat material is plastic.
My Pros With this Hat:
Unique in Design
Great quality
Strong fabric
Works very well with costumes
My Cons With this Hat:
Fabric may be glued inconsistently across the hat
Great use of plastic makes it lesser environment friendly
Hat Features:
Polyester,Cotton
Pull On closure
Imported
65% cotton; 35% polyester
With a brown leather bucket resting on top of the brim, this hat is a class apart.
The Fedora is available in 32 different colors.
The wide brim offers optimum protection from any sun damage while the hat is not as heavy as it may seem in the picture.
The cotton-made hat is adjustable to fit your head with the help of a rope inside of it.
Of course, the hat works purely for both men and women.
My Pros With this Hat:
Fedora style
Wider brim
32 color options
Adjustable
Unisex
My Cons With this Hat:
A little trickier to adjust the rope for smaller head size
The product is not color true
Room for improvement in the quality of the fabric
Hat Features:
100% Polyester Twill Cloth
Collapsible
We'll keep in mind the rest of the features but there is one thing that this hat tops in and that is of course the design.
The artistic blend to achieve a psychedelic effect is rather fascinating.
The polyester hat only comes in a single design and color but it is impressive enough.
The hat is lightweight and the design is suited for both men and women.
The brim of the hat is not wide but not every short either i.e. 2.7 inches.
This hat has the potential to attract a lot of people simply by its design.
My Pros With this Hat:
Artistic Psychedelic design
Lightweight and breathable
Unisex
Made with 100% polyester
My Cons With this Hat:
Finishing has room for improvement
Stitching has room for improvement
Colors are not very vibrant but only enough
Hat Features:
Our last hat is not a big flex in the department of design and color but its nature lies in putting forward a minimal look and that is why you will find an alien face (green or white) embroidered at the top of this bucket hat.
This hat comes in two colors i.e. Black and white.
The hat is designed to fit both genders and to make you feel cool at your next music festival
My Pros With this Hat:
Minimal in design
Unisex design
Great fabric quality
Lightweight and breathable
My Cons With this Hat:
Only two color options
The hat is smaller in size than you'd expect i.e. if you have a large head, it will not fit you comfortably.
Festival culture is gaining pace once again and to step up to its speed we need to make sure that we have a well-finished festival gear.
While a full-day festival is a river of excitement, it's important to make sure that we are keeping ourselves in good shape and form.
Bucket hats are not only dedicated to serving fashion but equally important is the protection from the sun rays that they provide.
"Where do I get a fancy but functional bucket hat"?
This list above does the job for you.
I am a participant in the Amazon Services LLC Associates Program, an affiliate advertising program designed to provide a means for us to earn fees by linking to Amazon.com and affiliated sites.
Nate's first ever major EDM event was Hard Summer in 2016. After hearing Porter Robinson close out the festival, he's been attending live shows on a consistent basis. His favorite EDM genres are currently trance, drum and bass, and house.